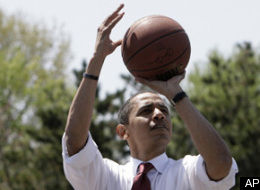 Howard Fineman
WASHINGTON - People who play basketball with Barack Obama say he's more dogged than flashy, more determined than skillful, more adaptable than unique. He'll trash talk on a dribble-drive with Reggie Love, but in the old days he was a studious, unselfish passer with classroom colleagues at Harvard Law.
And often, they say, he ended up with more points than you thought he'd have. No one noticed until it was over.
As in basketball, so it is now: his life on the court is a parallel to the first two years of his up-and-down-and-now-sort-of-up-again presidency.
It hasn't been pretty; it certainly hasn't been easy. Pundits, including this one, have dismissed him as a lousy negotiator, a dreamy academic or worse. He's been a New Dealer one minute, Reaganite the next. He's been rigidly partisan one minute and too eager to cut a deal with the Republicans leadership the next.
He's been called a Socialist by the Tea Party and a Wall Street toady by MoveOn. His public standing is weak; the public thinks the country is headed in the wrong direction. Beltway-wise guys think he can be had.
But through dogged patience, and adaptable style and a refusal to panic, the president has piled up the longest list of new laws, treaties and administrative actions anyone has seen here in decades.
That list may or may not get him reelected. The economy is what matters, as will the nature of his GOP competition in Congress and in 2012. The academic comparisons to LBJ and FDR won't be worth the bluebooks they're written on if the unemployment rate is 10 percent.
But everyone should accept that the fact that Obama's got game. Or found it.
He played the first year by dribbling for the most part to the left, cutting deals primarily - almost exclusively - with his Democrats, who had what seemed to be overwhelming majorities in Congress.
That got him a stimulus bill, various bailouts and monumental, if highly controversial, health-care and financial-services legislation.
In the post-shellacking lame duck, he moved right on taxes, which, in turn, created a sense of momentum and confidence that helped him and Democrats pass food-safety and child-nutrition laws and a measure to aid 9/11 first responders.
Perhaps the president's best move of all was when he was choosing up sides two years ago. He asked George W. Bush's Defense Secretary, Robert Gates, to stay on - and then passed Gates the ball repeatedly.
It was Gates who helped the president this week to sell a history-making repeal of Don't Ask, Don't Tell, and to convince the U.S. Senate to ratify the New START nuclear arms treaty with Russia. Both were major accomplishments.
It's just the end of the first half. But, as Obama heads to Hawaii, he's entitled to point to the scoreboard with pride - and to feel that he's at least got a fighting chance to win it all when he comes back out onto the court.
__________________________________________________________
Major legislation enacted in President Obama's first 2 years:
2009
January 29: Lilly Ledbetter Fair Pay Act
February 4: Children's Health Insurance Reauthorization Act
February 11: DTV Delay Act
February 17: American Recovery and Reinvestment Act
March 30: Omnibus Public Lands Management Act of 2009
April 21: Edward M. Kennedy Serve America Act
May 20: Fraud Enforcement and Recovery Act
May 20: Helping Families Save Their Homes Act of 2009
May 22: Credit Card Accountability, Responsibility, and Disclosure Act of 2009
June 22: Family Smoking Prevention and Tobacco Control Act
August 6: Cash For Clunkers Extension Act
October 22: Veterans Health Care Budget Reform and Transparency Act
October 28: Matthew Shepard and James Byrd Jr. Hate Crimes Prevention Act
October 30: Ryan White HIV/AIDS Treatment Extension Act
November 6: Worker, Homeownership, and Business Assistance Act of 2009
2010
January 27: Emergency Aid to American Survivors of Haiti Earthquake Act
March 4: Travel Promotion Act
March 18: Hiring Incentives to Restore Employment Act (HIRE Act)
March 23: Patient Protection and Affordable Care Act
March 30: Health Care and Education Reconciliation Act of 2010
May 5: Caregivers and Veterans Omnibus Health Services Act of 2010
May 17: Daniel Pearl Freedom of the Press Act
July 21: Dodd-Frank Wall Street Reform and Consumer Protection Act
July 22: Unemployment Compensation Extension Act of 2010
July 22: Improper Payments Elimination and Recovery Act of 2010
August 10: SPEECH Act of 2010
September 27: Small Business Jobs and Credit Act of 2010
December 17: Tax Relief, Unemployment Insurance Reauthorization, and Job Creation Act of 2010
December 19: Food Safety and Modernization Act
December 22, 2010: Don't Ask, Don't Tell Repeal Act of 2010
December 22: START Treaty Ratified
December 22: James Zadroga 9/11 Health and Compensation Act of 2010
Not bad for a guy with a 45% approval rating. But next year comes the real test as the republicans assume greater control in congress.