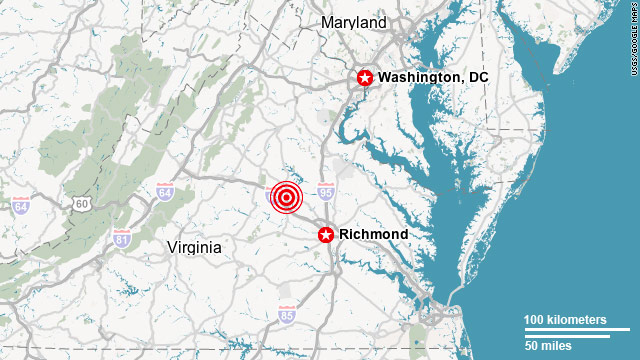 WASHINGTON —
Thousands of people were evacuating buildings across the Washington, D.C., area on Tuesday after a moderate earthquake miles away in Virginia that was also felt in the Northeast and as far south as Chapel Hill, N.C. Parts of the Pentagon, White House and Capitol were among the areas evacuated.
Centered 87 miles from the nation's capital, the quake was a magnitude 6.0, the U.S. Geological Survey said.
At the U.S. Capitol, light fixtures swung and the building shook for about 15 seconds while the tremor hit, NBC News reported. In New York City, NBC reported debris fell from the attorney general's office, causing a brief panic as people ran from the area.
Government buildings in the city, including City Hall, were evacuated. The 26-story federal courthouse in lower Manhattan began swaying and hundreds of people were seen leaving the building. A mild tremor was even felt by NBC reporters with President Barack Obama during his vacation on Martha's Vineyard, an island off Massachusetts. The earthquake's epicenter was between Charlottesville and Richmond, Va., the USGS reported. It was 3.7 miles deep.
_____________________________________________________
What God...you couldn't wait until Congress was back in session???